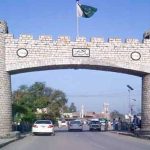 LAHORE: Former prime minister Nawaz Sharif's daughter, Maryam Nawaz, said that she has paid the heavy price of supporting her father through thick and thin.
While addressing a women workers' convention in Lahore, Maryam Nawaz said that she have suffered many conspiracies but she never let anything harm her leader's reputation.
People who are now opposing us were quite when the country was progressing. "Where were they when roads were being built? Where were they when motorways were being built? Where were they during CPEC," she asked.
"Your leader was treated unjustly. It is up to you to do justice now," she said, asking the voters to show up in numbers and vote for PML-N candidate on September 17. "We don't want the iqama or Panama kind of [biased] justice," she remarked.
"On September 17, we will give an answer to all the injustices against us. After the by-poll, the politics of puppets will cease to exist."
My father served people in the last four-and-a-half years and this is why people have showered him with so much love, she said. "Thanks to disqualification, now wherever you look you will only see Nawaz Sharif."
She added, "Nawaz Sharif's future will no longer be decided by the court but the nation."
"You must respect your vote. Promise me the lion will roar the streets of Lahore on September 17," she added.
"Thankful for all the love given to my father and my mother by you all," she told all her party supporters at the start of her address.
Maryam is handling the NA-120 campaign while her mother and Pakistan Muslim League-Nawaz candidate for the by-poll, Kulsoom Nawaz, undergoes treatment for lymphoma in London.
By-election on the seat left vacant after Sharif's disqualification by the Supreme Court on July 28, will be held on September 17.
A total of 44 candidates will contest the NA-120 by-poll.
The Election Commission of Pakistan will establish 220 polling stations and 573 polling booths where the constituency's 321,786 registered voters can cast their vote.
On Tuesday, Maryam had visited the constituency and addressed a gathering of party workers after inaugurating PML-N's office in NA-120.
Maryam Nawaz had said that her father is both sadiq and ameen (truthful and honest). She had also questioned if the voters were willing to accept the Supreme Court's decision to disqualify her father, in response to which the audience chanted in negation.