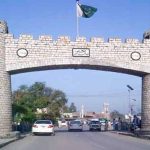 QUETTA: Pak-Afghan border at Chaman remained closed for the sixth consecutive day amid shoot-at-sight orders for those trying to cross the border illegally.
The local people faced several problems as the border remained closed for trade and every kind of vehicular traffic.
Meanwhile, shoot-at-sight orders have been issued for those who try to cross the border illegally.
Mobile phone services have also been suspended in Chaman for security concerns which added to the sufferings of local people.