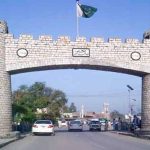 PESHAWAR: Amid deteriorating law and order situation Pakistan has reportedly moved heavy artillery towards Afghan border to beef up the security in the mountainous border region.
Security forces have further tightened the security at Pak-Afghan border in Chaman to stop the illegal infiltration of terrorists from Afghanistan.
According to security sources, heavy artillery guns were moved forward to completely stop the movement of terrorists along the Pak-Afghan border. Sources said that security forces have increased vigilance at the border and deployed extra contingents of security forces along the border to stop the illegal infiltration of terrorists from Afghanistan.
Pakistan army pounded militants' hideout inside Afghanistan last week and killed several militants affiliated with Jamaatul Ahrar.
Reports received from the area indicated that the Pakistani troops successfully targeted the hideouts of Jamaatul Ahrar across the border and inflicted huge casualties on them.
Officials sources said heavy weapons and mortar shells were used to destroy the Jamaatul Ahrar fighters' sanctuaries in Rena Parchao. The sources said that some of the hideouts of militants in Mohmand Agency adjacent to Khyber Agency were also targeted.
The border crossing at Torkham and Ghulam Khan were kept closed and curfew was imposed near the border. More than 500 shops and private offices also remained closed.
Earlier, Pakistan-Afghanistan border crossings at Torkham and Chaman have been closed for all sorts of traffic. The border points have been closed to stop entry of terrorists from Afghanistan.
Several banned terrorist organizations, including Tehrik-e-Taliban Pakistan (TTP) and Jamaat-ul-Ahrar are based in Afghanistan, and they have been carrying subversive activities in Pakistan from there, informed the Inter-Services Public Relations (ISPR).
Security forces have increased patrolling, surveillance and checking on check posts along the Pak-Afghan border.
Meanwhile, several terrorists were killed in an exchange of firing with security forces in Khyber Agency on Friday.
According to ISPR, the terrorists attacked Pakistani border post in the agency from the Afghan side.
Two FC soldiers were also martyred in the attack.