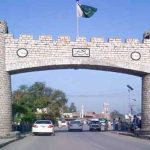 ISLAMABAD: As a preventive measure against the spread of coronavirus (COVID-19), the Chaman border has remained closed on the second day today (Tuesday).
The authorities said that the border will remain shut till March 9 in the best interest of the people of the brotherly countries.
A notification issued by the interior ministry stated, "During the period, necessary measures will be taken to safeguard the health of the people of both countries."
Besides, all trade activities will remain suspended in this period. Meanwhile, freight vehicles have been moved to the Customs' House and other yards.
On the other hand, the government has reported a new coronavirus case, taking the total in the South Asian nation to five since the first cases were confirmed last week, officials said.
"We have now 5th confirmed case of COVID19 in federal areas," Dr Zafar Mirza told. The patient is stable and being managed well, he said, without giving further details.
The patient is a 45-year-old woman from the northern mountainous region of Gilgit Baltistan, who arrived from Iran a few days ago.