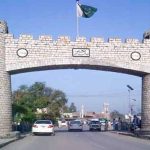 RAWALPINDI: Director General of the Inter-Services Public Relations (ISPR) Major General Asif Ghafoor on Monday said that the banned Jamaat-ur Ahrar spokesman Ehsanullah Ehsan has surrendered to Pakistan security forces.
Briefing the media on progress in Operation Radd-ul-Fasaad, DG ISPR said that Operation Radd-ul-Fasaad was different from preceding military operations that had been undertaken in the country. "Radd-ul-Fasaad was planned to consolidate gains made in other military operations," he said. He said that the Pakistan Army was committed to eradicating fasaad (anarchy) from the country.
Asif Ghafoor showed a confessional video of Naureen Leghari, a medical student from Hyderabad who allegedly joined the militant Islamic State (IS) in Syria.
In the video, Leghari denied that she had been kidnapped, saying she made the decision to travel to Syria on her own. "No one kidnapped me, I went there myself," she said.
"We were planning terrorist attacks," she added. The plans included suicide attacks and schemes to kidnap intelligence officials.
"The girl went missing from Hyderabad. Later, a message appeared on Facebook in which she said that she had joint the military group," the director general said before he showed the video.