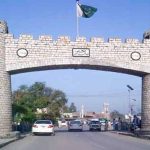 PESHAWAR: General Officers Commanding, South Waziristan, Major General Noman Zakria has said that fifteen teams have been constituted to remove Improvised Explosive Device laid by militants in different areas of South Waziristan Agency.
Talking to media at his office, he said forty-nine army men have been injured in the demining process.
He said thirty civilians injured by IEDs, are being treated by Pakistan Army. Civilians who were martyred and injuries by IEDs, would be compensated and those who lost their limbs will be provided artificial limbs.
He said that concerned Army officials can be informed regarding IED on 0965212847 anytime.