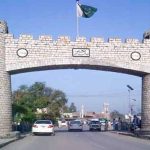 RAWALPINDI: Director General Inter-Services Public Relations (ISPR) Major Genera Asif Ghafoor on Wednesday said that Pakistan Army values strong democracy as much as all other Pakistanis adding that Pakistan Army is in favour of a strong democracy and, keeping the Constitution in mind, will continue to do what is better for the country.
DG ISPR addressed a press conference to clear the air regarding several major developments on the domestic and internal front over the past few weeks.
Starting with the most recent, he regretted that "everyone, within and without the media, took up a position regarding the Dawn story probe. Two sides were formed on the issue.
"The purpose of the press release was not to side with any personality, it was in reference to the PM Office's press release being incomplete," he said.
"Today, the Ministry of Interior issued an order according to Para 18 [of the inquiry committee's report] and the misunderstandings of the past couple of weeks have been lifted.
"Pak Army is a strong institution of the state. We, as an institution, will continue to do what is right for the country and work with other institutions," he reiterated.
"We have spoken a lot about democracy in the past few weeks, but there a voice was never raised against democracy," he clarified.