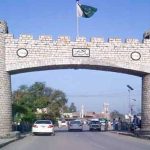 ISLAMABAD: Pak-China Border via Khunjerab top will re-open for trade and travel on Monday, April 1.
According to a protocol singed between both the friendly countries, the border remains closed from 1st of December to 1st of April every year due to heavy snowfall.
This winters, three-year record of cold weather was broken in Skardu district of Gilgit-Baltistan and its adjacent areas as temperature dipped to -16 °C.
Because of the extreme cold weather ponds, drains, lakes and rivers had got frozen.