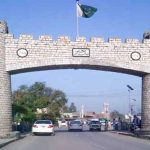 WASHINGTON: Pakistan ambassador to the United States, Dr Asad Majeed Khan on Monday said that the escalation of tension between Pakistan and India may affect Afghan peace process.
Speaking at the US Institute of Peace, Asad Majeed said that Prime Minister Imran Khan has been advocating peace through dialogue in Afghanistan long before it became fashionable. Pakistan therefore, supports President Trump s bold vision for peace in Afghanistan.
"The Prime Minister is convinced that Pakistan will not be able to pursue its development goals and aspirations until and unless we have a peaceful neighbourhood. It is in this spirit that we have reached out to our neighbours, particularly India and Afghanistan," he said.
Ambassador Asad further stated that the Pakistan government wants to build a "Naya Pakistan" (New Pakistan) in order to pursue a people-friendly, development-driven and peace-centric agenda.
He said that when there is tumult on Pakistan's eastern border, it diverts our attention from the western border with Afghanistan. He further said that US has played an important role in counselling restraint and in using its good offices to deal with the situation with India.
He said that the US and Pakistan have achieved great successes when they have worked together. "Our relationship with the United States remains a consequential and significant one," he said.
Ambassador Asad said Pakistan wants to see an Afghanistan that is at peace with itself and with its neighbours. "Pakistan supports President Trump s bold vision for peace in Afghanistan," he said.