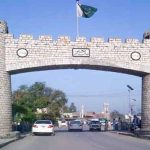 ISLAMABAD: Commerce Minister of Pakistan Khurram Dastgir Khan said that the federal cabinet will give a final approval to the Memorandum of Understanding (MoU) regarding resumption of Pak-Iran banking relationship that will create a friendly environment for the two countries in economic sphere.
In an interview with Iranian news agency IRNA, he said that the Economic Coordination Committee of the Cabinet (ECC) has already approved the MoU between the central banks of Iran and Pakistan on August 29 to establish the relationship between the two countries.
He added that under the agreement Pakistan and Iran will create a bilateral mechanism, according to which both countries will pay their traders on their own, he said, adding that it would be a very efficient mechanism and now consignments will directly be shipped to Iran and receive corresponding payment against the shipment without any banking problem.
"By the end of September we will have proper banking relationship. I am very hopeful that it would give an immediate boost to trade between the two countries," he said.
He added that Iran and Pakistan have also agreed to materialize the proposed Free Trade Agreement (FTA) between the two sides.
He strongly believed that these recent developments would have a very positive impact on the upcoming meeting of the Joint Economic Commission.