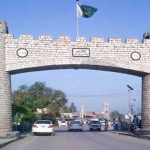 ISLAMABAD: Pakistan has said it has consistently strived to maintain close, cordial and mutually supportive relationship with its neighboring countries including Afghanistan and India.
Minister for Power Awais Leghari on behalf of the Minister of Foreign Affairs told the Senate during question hour that we want resolution of all outstanding issues with India, including that of Jammu and Kashmir.
He said this desire has consistently been reiterated during high level engagements as well as other official interactions with India but our positive overtures have not been reciprocated.
The Minister said continuing Indian denial of UN Security Council resolutions on Jammu and Kashmir dispute and gross human rights violations in the occupied valley are matters of serious concerns for us and the international community.
Minister for Parliamentary Affairs Sheikh Aftab Ahmad said Hakla-D.I. Khan road which is part of Western Route of China Pakistan Economic Corridor project, will be completed by May next year.
Minister of State for Maritime Affairs Jaffer Iqbal told the house that Pakistan National Shipping Corporation comprises modernized fleet and it is in the process of purchasing two more tanker vessels to cater for the requirements of the country.
Minister of State for Inter-provincial coordination Dr Darshan said that drug laboratories have been established in the federal capital and the provinces to ensure the quality of medicines in the country.
Minister for Federal Education Baligur Rehman said that international donors have started contributing to Malala Fund established in 2012. He said Pakistan has contributed ten million dollars and this fund will be used for promotion of girls' education.