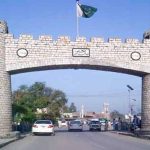 LONDON: Information Minister Chaudhry Fawad Hussain has said that Pak-US relations are on a positive trajectory.
Addressing the participants at International Institute of Strategic Studies (IIS) in London, he said Prime Minister Imran Khan presented the best proposal for bringing peace and stability in Afghanistan.
The Minister said there is complete harmony among civil and military institutions in the country.
Information Minister said China Pakistan Economic Corridor is a considerable economic venture and other countries, including those in the European Union, can reap the economic benefits ensuing from the project.