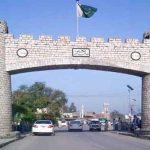 MOSCOW: The National Security Advisor of Pakistan Nasir Janjua on Wednesday meet Afghanistan NSA Haneef Atmar and discussed border issues including cross border attacks and building of military bases along the Pak-Afghan border.
Pakistan's National Security Advisor Nasir Janjua met his Afghani counterpart at Moscow on the sidelines of the 8th Russia Security Conference.
During the meeting, the two sides discussed the regional security and political issues. The two NSAs also discussed ways how to block the supply routes of terrorists.
Afghan NSA Atmar also talked about issues along the Pak-Afghan border such as firing Rockets, and building military basis on Afghan soil.
The two NSAs insisted on adhering to and implementing the agreements and decisions made at London Conference.