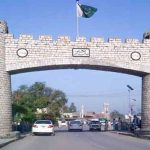 WASHINGTON: Ambassador Aizaz Ahmad Chaudhry has said that relations with the US were very important for Pakistan and this realization was prevalent across all segments of Pakistani polity.
Ambassador Chaudhry said this while speaking on "Pakistan's Place in the World" at John Hopkins University Washington on Tuesday. He was jointly invited by School of Advanced International Studies (SAIS) John Hopkins University and Lahore University of Management Sciences (LUMS). The ambassador congratulated the two universities for their initiative to institutionalise the study of Pakistan in the United States, says a press release received here on Wednesday.
While sketching out the changing dynamics of global politics that had been playing out in the South Asia region, Ambassador Chaudhry said that the realignments were defining the broad contours of emerging world order. "Pakistan, for its part, had fared well in these challenging and changing times. The country had defeated terrorism; the economy was picking up attracting investors across the globe and the democratic process were on track despite challenges", he said.
In interactions, Pakistan had been impressing upon it's American interlocutors that Pakistan meant well and both countries have a great deal of work to do together. This required continued engagement at all levels. The two sides could work together to achieve the shared objective of peace and stability in Afghanistan.
The conversation with the Ambassador concluded the two-day long Conference titled "Pakistan Beyond Seventy: The Long View" jointly organised by SAIS and LUMS with participation from think tanks and academia from Pakistan and the US.
In the evening, the ambassador hosted a reception for the participants of the conference titled "Pakistan Beyond Seventy: The Long View" at the Embassy. Distinguished personalities from the US government, think tanks and academia were also invited.