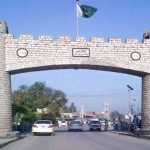 DUBAI: The Intentional Cricket Control (ICC) has fined Pakistan fast bowler Hasan Ali, and Afghanistan's Asghar Afghan and Rashid Khan 15 per cent of their match fees for breaching its code of conduct uring their Super-Four match in the Asia Cup in Abu Dhabi on Friday.
According to global governing body of cricket, the players have also received one demerit point each for breaching Level 1 of the ICC Code of Conduct in separate incidents.
"Hasan and Asghar were found guilty of breaching Article 2.1.1 of the ICC Code of Conduct for Players and Player Support Personnel, which relates to "conduct that is contrary to the spirit of the game", while Rashid was found to have violated Article 2.1.7, which deals with "using language, actions or gestures which disparage or which could provoke an aggressive reaction from a batsman upon his/her dismissal during an International Match, " said a statement.
It said the incident involving Hasan happened in the 33rd over of Afghanistan's innings when he threatened to throw the ball towards striker Hashmatullah Shahidi after fielding off his own bowling.
"As regards the incident involving Asghar, the Afghanistan captain brushed his shoulder with the bowler Hasan in the 37th over as he passed him while taking a run.
Rashid was charged and fined for giving a sendoff to Asif Ali in the 47th over of Pakistan's innings by holding up a finger and staring at the batsman, an action that could have provoked an aggressive reaction from the departing batsman.
After the match, all the three players pleaded guilty to the offences and accepted the sanctions proposed by Andy Pycroft of the Emirates Elite Panel of ICC Match Referees and, as such, there was no need for a formal hearing.
The charges were levelled by on-field umpires Anil Chaudhary and Shaun George, third umpire Rod Tucker and fourth umpire Anis-ur-Rahman.
Level 1 breaches carry a minimum penalty of an official reprimand, a maximum penalty of 50 per cent of a player's match fee, and one or two demerit points," said the statement.