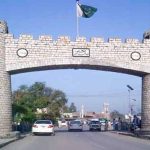 KABUL: President of Afghanistan Ashraf Ghani has said an agreement has been made with Pakistan, in writing, to combat terrorism, reported Tolo News.
Addressing an event in Kabul, the president announced that achievements had been made with Pakistan on finding a solution to the Taliban problem in Afghanistan.
"The issue of Taliban should be solved in our relations with Pakistan. Some things have been done in this respect and some things are still needed to be done. It has been agreed on paper for the first time. The Afghanistan-Pakistan negotiations framework is now on paper. Now, serious actions are required," he said.
"We should clearly agree on this, on how we will work with each other in the future and how we will prevent other movements," he added.
Meanwhile, Pakistan's Ambassador to Kabul Zahid Nasrullah stressed the need for the strengthening of Kabul-Islamabad ties.
"We welcome the ceasefire and strongly supported it. Pakistan's President Mamnoon Hussain was in China when he announced that Pakistan is strongly supporting the ceasefire. Pakistan knows its role well in peace and reconciliation in Afghanistan and we will fulfil our role very well," he said.