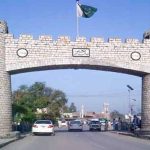 ISLAMABAD: Chief of Army Staff (COAS) General Raheel Sharif addressed participants at the National Defence University on Wednesday and said Kashmir was an unfinished agenda of partition.
"Pakistan and Kashmir are inseparable," General Raheel Sharif said. He emphasised that while Pakistan wished for peace and stability in the region, it was essential to have a just resolution in light of UN resolutions and as per aspirations of Kashmiris to establish this.
The COAS also spoke of how noteworthy achievements in Operation Zarb-e-Azb had created space for decisive surge against terrorists in urban areas. He added that advanced civil-military coordination had been even more critical to achieve a successful closure.
"Contours of future wars are fast changing. While our enemies are supporting terrorism to stoke sub-conventional conflicts and destabilise our country".
Army Chief General Raheel Sharif said the country was fully prepared and capable of defeating nefarious designs. "Pakistan is opposed to the use of proxies versus other countries and won't allow any country to use proxies against Pakistan".