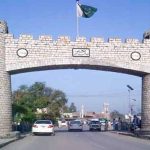 KARACHI: Chief of the Air Staff, Air Chief Marshal Sohail Aman on Thursday said Pakistan's armed forces are fully prepared to respond to any Indian aggression.
Talking to the media persons in Karachi during his visit at 9th International Defence Exhibition and Seminar (IDEAS) , he said our soldiers are battle hardened and we are not worried about any threat from the Indian side.
He, however, said it will be better for India to pursue the course of dialogue for resolution of outstanding Kashmir dispute.
Responding to a question, the Air Chief said Pakistan has signed an agreement with Turkey for provision of Super Mushahk aircraft to the friendly country.
He said negotiations are also continuing with different countries for the sale of JF-17 fighter jets.
Meanwhile talking to newsmen, the Naval Chief Admiral Zakaullah said that a flat unit of Pakistan Navy had chased an Indian submarine.
"The response that Pakistan Navy gave to India has satisfied the public. I am also satisfied," he said.
He thanked all the participants of IDEAS and added that the Navy was locally manufacturing missile boats.
He said that the Pakistan Navy was a four dimensional forces ready to thwart any attack on Pakistan's soil.
He called CPEC a major project and said that the navy will efficiently guard it.