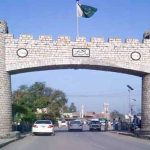 RAWALPINDI: Pakistan Army has announced a number of postings and appointments on Monday.
In a statement issued by the Inter-Services Public Relations (ISPR), Lieutenant General Nadeem Zaki Manj has been appointed Director General (DG) Strategic Plans Division Force (SPD), while Lieutenant General Shaheen Mazhar Mehmood has been appointed as Commander Mangla Corps and Lieutenant General Nauman Mahmood has been appointed Commander Peshawar Corps.
According to the ISPR, two major generals including Maj General Ali Amir Awan and Major General Muhammad Saeed have been promoted to the rank of Lieutenant Generals.
Major General Muhammad Saeed who has been promoted to the rank of Lt General and appointed as the president of the National Defence University (NDU) , while, Lieutenant General Ali Amir Awan has been appointed Inspector General Communications & Information Technology (IG C&IT).
On the other hand, Lieutenant General Sahir Shamshad Mirza has been appointed Chief of General Staff, while Lieutenant General Muhammad Amir has been appointed Adjutant General.
On November 21, Lieutenant General Nadeem Raza had been appointed Chairman Joint Chiefs of Staff Committee (CJCSC) and will replace General Zubair Mahmood Hayat who will retire on November 27.
According to a press statement from the PM House, the appointment will take effect from November 27, 2019. It may be recalled that notification for reappointment of General Qamar Javed Bajwa, NI( M) as COAS for another tenure has already been issued on 19 Aug 19.
Lt Gen Raza belongs to the Sindh Regiment. He was promoted to the rank of Lt Gen from Maj Gen while he was serving as the commandant of Pakistan Military Academy.
Lt Gen Raza has commanded X Corps based in Rawalpindi and in October 2017, he was appointed as 1st Colonel Commandant of Mujahid Force. In August 2018, Raza was appointed as the Chief of General Staff.
Lieutenant General Nadeem Raza, HI (M) was commissioned in 10 Sindh Regiment in September 1985. The General Officer is a graduate of Command & Staff College Quetta and NDU Islamabad.
The General Officer carries with him a varied experience of command, staff and instructional appointments.
On the instructional side, he has been on the faculty of SI&T, C&SC Quetta, and War College Islamabad and Commandant PMA. The General Officer has commanded an Infantry Battalion, Infantry brigade along LOC, Infantry Division in South Waziristan and 10 Corps.
He assumed the appointment of CGS on 10 Sep 2018.