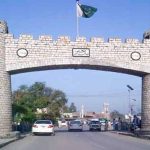 MUSCAT: Two-time champion Pakistan thrashed hosts Oman 8-1 in their third match of the Asian Hockey Champions Trophy 2018 at the Sultan Qaboos Sports Complex in Muscat on Monday.
Aleem Bilal scored a hat-trick in the initial three quarters to become only the second player to score a treble in a match during the ongoing tournament while Muhammad Irfan, Irfan Junior, Ammad Butt, Aby Mahmood and Muhammad Atiq all chipped in with a goal each to give Pakistan their second victory.
Pakistan now have six points from three games and have a strong chance of making it into the semi-final of the tournament.
The green shirts can only be denied a place in the knock-out semi-finals if they falter to big losses in the remaining fixtures against Japan and Malaysia.
Earlier, Pakistan defeated South Korea 3-1 in their opening match of the tournament while they lost to sub-continent rivals India 3-1.
Pakistan next faces Japan on October 24 and Malaysia on October 25.
The biennial event is being held in Muscat from October 18 to 28 at the Sultan Qaboos Sports Complex in Muscat, Sultanate of Oman and features Pakistan, India, Malaysia, Japan, South Korea and hosts Oman.