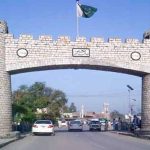 DUSHANBE: President Mamnoon Hussain while highlighting the importance of water in human life has called upon the international community to join hands in striving to end poverty, provision of quality healthcare and sustainable development across the globe.
He was addressing the inaugural session of international conference on the International Decade for Action "Water for Sustainable Development" in Dushanbe today (Wednesday).
The President said from food and energy security to human and environmental health, water was certainly at the core of sustainable development, nationally, regionally and globally.
He said effective and efficient management of water resources was key for inclusive and sustainable growth.
He said that recent hurricanes in the Caribbean Islands, the United States, Arabian Sea and South Asia, demonstrate how impactful these disasters could be on the lives and livelihoods of people, across the world.
The President said it was concerning that over 21% of the people around the world were still lacking access to clean drinking water and over one-third of the world's population still did not have access to adequate sanitation facilities.
The President said Pakistan had made steady progress in improving access to safe drinking water during the Millennium |Development Goal period.
He said in efforts to address these challenges, Pakistan approved its first National Water Policy in April 2018 to contribute towards sustainable development and progress through focus on water related goals and targets.
The President said Pakistan was also making efforts towards fostering a culture of conservation, productivity and efficiency and enhanced.