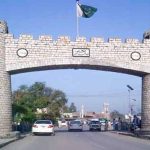 WASHINGTON: U.S. Under Secretary of State for Political Affairs David Hale on Tuesday has said that Pakistan can become regional power.
While addressing a ceremony, the US under secretary lauded Pakistan's efforts for peace and said that it can emerge as a regional power in future.
Meanwhile, former US ambassador to Islamabad Richard Olson has also appreciated Prime Minister (PM) Imran Khan's steps for stability and peace in Afghanistan.
He said that PM Imran had taken first step to de-escalate tensions between Pakistan and India after Pulwama attack.