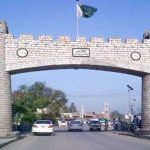 ISLAMABAD: Foreign minister Khawaja Asif has said on Wednesday that Pakistan cannot observe silence over brutal killings of Kashmiris in the occupied valley by Indian forces.
In a statement given today, the minister said that Indian forces are committing the worst of human rights violations in Kashmir valley.
He said that martyrdom of at least 11 persons in five days should grip the world at its conscience.
Asif said that resolutions of United Nations Organisation (UNO) give the people of Kashmir their right to self-determination.
He asserted that the federal government is playing an effective role to divert world's attention to the brutality unleashed by occupying forces. He urged the world powers to end apathetic attitude towards stat terrorism in Kashmir.
The federal minister said that India neither has moral nor political case to defend illegal occupation of the valley for around seven decades.
He accused Narendra Modi-led government of India of avoiding dialogue over the issue.
Khawaja Asif further recalled that former premier Nawaz Sharif had efficiently put forth the case of Kashmiri people in his United Nations General Assembly (UNGA) speech in 2016.