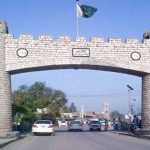 MULTAN: Chief organizer of the PML-N Maryam Nawaz has said that Pakistan is not facing any danger from external threat, but internal rifts, adding that Pakistan could not move forward without political stability.
She was media before meeting party leaders on Monday. Federal Minister for Information and Broadcasting Mariyum Aurangzaib, Interior Minister Rana Sanaullah, senior party leaders Pervaiz Rasheed, Tehmina Daultana, Talal Chaudhry, and Senator Saud Majeed were also present.
She said that former prime minister Nawaz Sharif had left the national economy on a strong footing in 2018 but it nosedived during the Imran-Khan-led PTI government.
In a matter of a few years, the previous PML-N government's achievements were squandered opening floodgates of inflation and leaving the commoners at the receiving end, she said . Maryam Nawaz  said the Pakistan Tehreek-e-Insaf (PTI) government had inherited a Pakistan with a high economic growth rate of 5.8 percent, but it drastically cut down the development trajectory.
Maryam Nawaz said Prime Minister Shehbaz Sharif was working round the clock to steer the economy out of trouble and control price hikes, which had resulted due to the wrong policies of the PTI regime.
It would take time to rectify the ills the country had to suffer during the four years of the PTI's "misrule", she added Maryam recalled that Nawaz Sharif had finalized a programme with the International Monetary Fund (IMF) in 2016 but its burden was not shifted to the people and as a result, the country was economically strong when the general elections were held in 2018.
On the other hand, the IMF programme signed by the Imran-led government worsened the economic conditions and triggered the worst-ever inflation, she added.
She said the agreement signed by the PTI regime with the IMF not only caused inflation and an economic downturn but its violation further worsened the situation as well leaving no choice for the incumbent government except to accept the tough conditions being imposed by the international lender.— Agencies