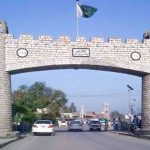 ISLAMABAD: President Arif Alvi has said Pakistan has the talent to emerge as one of the strongest economies in the world.
Addressing the closing ceremony of ICT skill competition in Islamabad on Friday, he said the vision of Naya Pakistan can be realized by harnessing the tremendous opportunities offered by this new information age.
The President however stressed that the universities and educational institutions need to equip the youth with the training and education keeping in view the requirements of the market. This, he said, will help our youth grab the job opportunities and turn their dreams into reality.
The President said our women are also getting equal opportunities to excel in all fields and aspects of their lives.
Arif Alvi said Artificial Intelligence is being used as a tool in making decisions and judgments. He said that China has achieved tremendous success in the field of Information technology and is become world leader in it. He said we also need to do a lot of investments in this particular sector to achieve the goals of development.
In his remarks on the occasion, Minister for Education Shafqat Mahmood said China is investing and extending cooperation to Pakistan in different sectors including the education. He said latest technology has made the process of education for youth far more easier. He said we are also linking up education and skill development with the future technologies in order to prepare a skilled workforce.
Chinese Ambassador to Pakistan Yao Jing said that his country is now also focusing on the development of social sector in Pakistan including the human resource development. He also appreciated the steps being taken by Pakistan for bringing improvement in the education sector.
Chairman Higher Education Commission Tariq Banuri said we are committed to provide resources to unleash the potential of our youth in different fields. He said we are also holding different competitions in order to hunt the best talent in the field of IT.