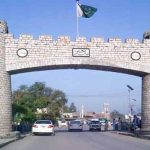 ISLAMABAD: Pakistan-China-Afghanistan trilateral dialogue was held today (Saturday) in Kabul to to discuss mutual cooperation and peace efforts.
After the meeting, Pakistan, China and Pakistan signed a Memorandum of Understanding vis-a-vis anti terrorism cooperation in Kabul. The document was signed by Foreign Minister Shah Mehmoud Qureshi, Chinese Foreign Minister Wang Yi and Afghan counterpart Salahuddin Rabbani.
The signing was witnessed by Afghan President Ashraf Ghani.
Addressing the joint press conference along with his Chinese and Afghan counterparts after conclusion of trilateral dialogue, Foreign Minister Shah Mehmood Qureshi underscored the need to remove trust deficit between Pakistan and Afghanistan. He further emphasized that Pakistan remains committed to a peaceful Afghanistan in accordance with the wishes of Afghan People.
FM Qureshi also stressed for a joint strategy to eradicate the menace of terrorism from the region. He noted that only through collective efforts we can wipe out terrorism and achieve the objectives of peace and development.
The foreign minister said we all want peace and stability in Afghanistan. He said Pakistan will benefit the most from the peace and stability of the neighboring country.
He said Pakistan will extend cooperation to bring all the afghan groups to the table of negotiations. He, however, said it is up to the Afghans themselves as to how they want to achieve the goal of peace.
Shah Mehmoud Qureshi said Pakistan condemns terrorism in all its forms and manifestations. He said he is visiting Kabul to bridge the trust deficit.
In his remarks, Chinese Foreign Minister Wang Yi said both Afghanistan and Pakistan are friends of China and his country will extend every possible cooperation to build trust and confidence between the two countries.
He said his country will also assist in establishing connectivity projects including a rail line between Peshawar-Kabul and Kandahar.
The Chinese foreign minister said the afghan reconciliation process can be taken forward by bringing the Taliban to the table of negotiations.
Afghan Foreign Minister Salahuddin Rabbani said Pakistan has an important role for peace in Afghanistan. He said peace in his country is vital for peace and security of the entire region.
He said eradication of terrorism will pave the way for economic development and job creation.