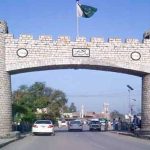 BEIJING: Pakistan and China have agreed to strengthen bilateral cooperation and pledged to play a key role in regional stability through Shanghai Cooperation Organization. The understanding came during meeting of Foreign Minister Khawaja Muhammad Asif with his Chinese counterpart Wang Yi in Beijing.
The two sides exchanged in-depth views on all matters of mutual interest.
The Foreign Minister appreciated the vibrant role of Shanghai Cooperation Organization in the region as a significantly vital forum for regional cooperation. He underlined Pakistan's support to China's active chairmanship of Shanghai Cooperation Organization.
Khawaja Asif also appreciated the Chinese initiative for Pakistan-China-Afghanistan Foreign Ministers' Trilateral Mechanism for enhancing cooperation with Afghanistan. He also apprised him of the grave situation prevailing in Occupied Kashmir.
Chinese Foreign Minister stated that Pakistan and China are close friends and all-weather strategic cooperative partners. He appreciated Pakistan's active participation in Shanghai Cooperation Organization and all its mechanisms. He expressed China's strong support for Pakistan's contribution to enhancing regional peace and cooperation and its relentless and tireless efforts in countering terrorism.