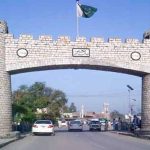 ISLAMABAD: Pakistan and China have agreed to further strengthen strategic cooperation and partnership between the two countries.
A delegation level dialogue between the two countries held in Islamabad on Sunday. Prime Minister Imran Khan led the Pakistan side while Chinese side headed by Vice President Wang Qishan.
Talking on the occasion, Prime Minister Imran Khan said Pakistan is committed regarding China Pakistan Economic Corridor as this project will help to promote the agriculture, industrial and economic development.
On his part, Chines Vice President expressed satisfaction over the bilateral relations between the two countries. He said that Pakistan played a commendable role for peace in the region and cooperation with neighboring countries.
Both leaders also discussed regional peace and overall situation in South Asia.