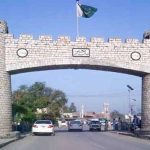 BEIJING: Pakistan and China have signed 15 agreements and memorandum of understandings (MoUs) for cooperation in diverse fields.
The signing ceremony was witnessed by Prime Minister Imran Khan and his Chinese counterpart Premier Li Keqiang.
Agreements relating to poverty alleviation in Pakistan and strengthening of cooperation in agriculture, industrial sectors and technical training were also signed by the two sides.
One document was relating to strategic level talks between the foreign ministers of two countries.
The two countries signed an MoU for cooperation in forestry, earth sciences and transfer of electronics.
One agreement was signed between Higher Education of Pakistan and Science Academy of China whilst another was signed between Chinese Academy of Science and Pakistan Meteorological Department.
Talks are also underway between PM Khan and Mr. Li Keqiang at the Great Hall of the People in Beijing. Both the sides are discussing the entire gamut of bilateral relations as well as regional and international matters of mutual interests.
On arrival at the Great Hall of the People, the Chinese Premier accorded warm welcome to Prime Minister Imran Khan.
On the occasion, an official welcome ceremony was held in honor of the prime minister. Anthems of both the countries were played. Guard of honor was presented to the visiting prime minister.
Earlier, the Prime Minister also laid wreath at the Monument of the People's Square.