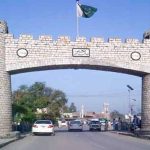 ISLAMABAD: Minister for Planning, Development, and Reforms, Ahsan Iqbal has announced to launch a campaign titled "Jazba-e-Tameer".
Addressing a news conference in Islamabad, he urged youth to become active workers of this campaign and work hard to take Pakistan to top 25 economies of the world.
Ahsan Iqbal said the campaign involves sending video clips of persons, organizations and other entities that have spirit of doing something good to disseminate a positive message in the society.
Meanwhile, the contract signing ceremony of Pakistan Multi-Mission Satellite (PakSAT-MM1) project was also held in Islamabad.
Minister of Planning, Development and Reforms Ahsan Iqbal and Chinese Ambassador to Pakistan Yao Jing were present at the event.
Speaking on the occasion, Ahsan Iqbal said the signing of this project is a landmark achievement in cooperation between Pakistan and China in the field of space science.
He said Pakistan will be able to send its first astronaut in outer space with Chinese cooperation in 2020.