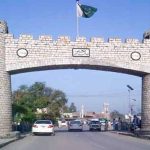 ISLAMABAD: Pakistan on Sunday closed its consulate in the Afghan city of Mazar-e-Sharif after a woman was caught trying to sneak a hand grenade into the consulate.
In a statement issued by the Foreign Office, the woman was arrested by the police and is under investigation to find perpetrators of the failed attack.
The Embassy of Pakistan in Kabul has urged the Afghan government to provide foolproof security to its Consulate General in Mazar-e-Sharif and to share the findings of its investigation at the earliest.
Pakistan Consulate in Mazar-e-Sharif will remain closed for visa services till the provision of foolproof security by the authorities to prevent any untoward incident.
In September last year, Pakistan had temporarily closed its consulate in the eastern Afghan city of Jalalabad over alleged interference by the provincial governor and a lack of security, its embassy in Kabul announced.
Pakistan s embassy in Kabul complained that the provincial governor of Nangarhar was "intervening" in the affairs of the consulate.
"The Embassy had requested the Ministry of Foreign Affairs of Afghanistan to kindly refrain the Governor from interfering in the functioning of the Consulate General."
Pakistan also reiterated an oft-repeated request for greater security to be provided to the consulate.
In November last year, a Pakistani diplomat was shot dead outside his residence in Jalalabad. Last June, two Pakistani diplomats were kidnapped in Nangarhar while heading to Pakistan by road.
The closure of the consulate is the latest episode in a period of increasingly strained relations between the neighbouring countries who accuse each other of providing safe haven to armed fighters along the 2,600km, largely porous, border.
Pakistan has made efforts to fence the border, but has faced resistance from Afghanistan, who claims the border is disputed.