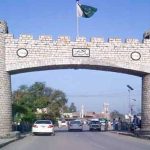 RAWALPINDI: According to the Inter-Service Public Relations (ISPR), the phasing of the entire Pakistan-Afghanistan border has been commenced and is continuing.
According to the press release issued by the ISPR, as per phase 1, high infiltration prone border areas in Bajaur, Mohmand and Khyber Agencies are being fenced.
In phase 2, fencing of remaining border areas including Baluchistan will be executed. Besides fencing, Pakistan Army and FC Khyber Pakhtunkhwa are constructing new forts / border posts to improve strengthen the defense at the borders as well and to enhance surveillance.
The press release further stated that a secure border was in the common interest of both Pakistan and Afghanistan since it kept a check on infiltration of terrorists that harmed both states.