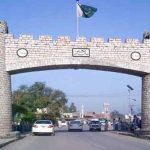 ISLAMABAD: Pakistan has strongly condemned the cross border terrorist attack at Pakistani check posts in Bajaur Agency on 13th November, 2017 that resulted in the shahadat of two Pakistani military personnel – Captain Junaid Hafeez and Sepoy Raham. In this regard, Afghan CDA was summoned to the Ministry of Foreign Affairs and a strong protest was lodged with the Afghan government over this incident.
Foreign Office Spokesman in a statement said that Pakistan has been witnessing a surge in terrorist attacks on its security forces deployed along the Pak-Afghan border who are engaged in strengthening border management. These cross border terrorist attacks on Pakistani forces confirm the presence of a large number of terrorists in the increasingly ungoverned spaces in Afghanistan. The forces supporting these acts of terrorism against Pakistan who have been allowed to use the Afghan soil are a serious threat to peace and stability in Afghanistan, and the region. This was also demonstrated earlier this month when elements inimical to peace and security in the region had targeted and martyred a Pakistani diplomatic official in Jalalabad.
Pakistan calls upon the Government of Afghanistan to take immediate action against the terrorists and terrorist groups finding sanctuaries in Afghanistan to target Pakistani security forces. Strengthening the border management is critical to preventing such cross border attacks.