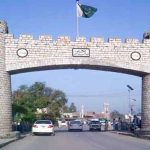 ISLAMABAD: Pakistan on Tuesday condemned rocket attacks on Kabul close to the Afghan Presidential Palace during Eid prayers.
The Foreign Office spokesperson, in a statement, urged all parties to respond to the government's ceasefire offer.
According to foreign media, multiple rockets hit near the diplomatic area in Kabul early Tuesday, as officials said fighting had broken out between security forces and militants in the city's old quarter.
It was not immediately clear who was responsible for the attack, which came just days after Afghan President Ashraf Ghani offered the Taliban a three-month ceasefire.
Military helicopters were firing above the Eidgah Mosque in Reka Khana district, where smoke was rising as police and the interior ministry said clashes were underway, amid a heavy security presence near the Kabul Stadium.
"This morning a group of terrorists took over a building in Reka Khana and fired several rockets towards Kabul," interior ministry spokesman Najib Danish told a foreign news agency.
"Two people have been wounded. Security forces are fighting the terrorists."
Kabul police spokesman Hashmat Stanikzai confirmed that fighting was underway near the mosque, and said he could not confirm casualties yet.
"Police have cordoned off the area," he said.
Ghani unveiled the government's latest ceasefire gambit during an Independence Day address late Sunday, saying security forces would observe the truce beginning this week — but only if the militants reciprocated.
The truce offer was welcomed by the United States and NATO after nearly 17 years of war, but the Taliban have yet to respond.
The move followed an extraordinarily violent week in Afghanistan that saw that Taliban storm the provincial capital of Ghazni — just a two-hour drive from Kabul — and press the fight against security forces across the country, with estimates suggesting hundreds of people may have been killed.