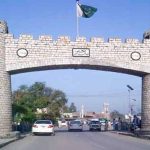 DUBAI: Pakistan cricket team's 16-member squad arrived in Dubai early on Tuesday to participate in the Asia Cup.
The team had departed from Lahore's Allama Iqbal airport for UAE in wee hours on Tuesday. The team will rest today and start practice from Wednesday.
The tournament is scheduled to begin on September 15 at the United Arab Emirates (UAE), while the final would be played on 28 of the same month.
Six team will participate in this year's Asia Cup, including, Pakistan, India, Sri Lanka, Bangladesh and Afghanistan while the sixth team will be determined via a playoff that includes UAE, Hong Kong, Nepal, Singapore, Malaysia and Oman.
Pakistan, twice winner of Asia Cup in year 2000 and 2012, will play its first match of the event against the little known qualifier Hong Kong on September 16, while they will take on the arch-rivals India in its second match on Sept 19.
The first Asia Cup was played in 1984 in Sharjah and so far its thirteen editions have been played. India is the top most team which won the title six times in 1984, 1988,1990,1995,2010 and 2016 followed by Sri Lanka having won the cup five times in 1986,1997,2004,2008, 2014.