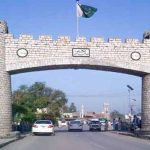 ISLAMABAD: Pakistan has decided to brief allied countries including China, Turkey and Saudi Arabia over continuous Indian violence at Line of Control (LoC).
Earlier today, at least seven people embraced martyrdom and several others injured when a passenger bus got hit by an Indian rocket near the LoC, the Inter Services Public Relations (ISPR) reported.
According to ISPR, the bus came under attack in Dhudnial area of Azad Kashmir's Neelam Valley.
On the other hand, Foreign Office Spokesperson Nafees Zakariya has said that the world community should play its role for resolution of lingering Kashmir dispute.
He said Pakistan will continue to extend moral, diplomatic and political support to the Kashmiri people.
The spokesperson strongly condemned the Indian LOC violations saying these have hurt the relations between the two countries.
He said India is backing terrorists in Pakistan.