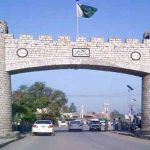 ISLAMABAD: Foreign Minister Shah Mehmood Qureshi on Tuesday said that Pakistan wants peace in the region as unrest and chaos would not serve any one's interest.
This he said while talking to Pakistan's High Commissioner to India Sohail Mahmood who called on him in Islamabad today.
They exchanged views on overall security situation of the region in particular context of Indian allegations against Pakistan over the Pulwama incident.
The Foreign Minister said we are seriously reviewing the emerging situation and I have written a letter to the UN Secretary General Antonio Guterres apprising him about the situation.
Qureshi further added that the Foreign Office (FO) is seriously reviewing the situation and the United Nations General Assembly has also been apprised of the situation.
The foreign minister on Tuesday also called on the UN to 'step in to defuse tensions' between Pakistan and India following the attack.
Mahmood was recalled from New Delhi for 'consultations' amid deterioration in ties between the two nuclear-armed neighbours. India called back its envoy a day after the Pulwama attack.
The responsibility of the deadly attack was reportedly claimed by the banned Jaish-e-Muhammad. India, however, took no time in pointing a finger at Pakistan.
Islamabad has strongly rejected the Indian allegations because these were made within a short time from the attack and without carrying out any investigations.