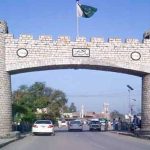 Pakistan reported its first suspected case of the Omicron variant of coronavirus Thursday, as per the Sindh Health Deparment.   A private hospital in Karachi reported the first case of the variant in a 57-year-old female patient who is unvaccinated, confirmed Sindh Health Minister Dr Azra Pechuho.
The health department, on the other hand, disclosed that the patient does not have any travel history.  As per health officials, the patient is not showing any symptoms of the virus and has been sent home to isolate.
The Sindh health minister said that it cannot be said for sure whether the patient is suffering from the Omicron variant or not until and unless a genomic test is conducted.
"We have not yet conducted a genome study but the way the virus is behaving, it seems likely that it is the Omicron variant," she said.
She said that although the Omicron virus spreads rapidly, it has been observed that recent cases of infection in South Africa have not resulted in either severe illnesses or a high number of deaths.
Dr Pechuho said it would take between one to two weeks for the genome study to take place, after which it can be said for sure whether the patient has contracted the Omicron variant of the coronavirus or not.
"The virus spreads [rapidly]. This lady is also not vaccinated, which is why I would like to appeal to you all to get both doses of the vaccine," said the minister.