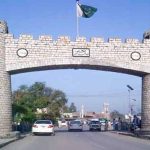 ISLAMABAD: Pakistan and the European Union (EU) on Monday agreed to strategic partnership in the fields of trade, investment and energy.
The understanding came at the strategic dialogue between the two sides at foreign office in the federal capital.
Pakistani side was led by Foreign Minister Shah Mehmood Qureshi while the EU by its Foreign Policy Chief Federica Mogherini.
She hailed Pakistan's democratic stability and the reforms agenda of the government.
Foreign Minister Shah Mehmood Qureshi said Pakistan will continue to fulfill its responsibilities vis-a-vis peace in Afghanistan and the region.
The foreign minister also apprised the EU delegation about gross human rights violations in the Indian Occupied Kashmir.
Federica Mogherini said that the EU values the role of Pakistan in the Afghan peace process.
Earlier, upon arrival at the FO, Miss Mogherini along with delegation was warmly welcomed by Foreign Minister Shah Mehmood Qureshi.
The two sides are discussing cooperation in different sectors.
Well informed sources said the EU high representative will also call on Prime Minister Imran Khan to discuss regional peace and stability.
Earlier, Ms Mogherini had spoken to FM Qureshi by phone after tensions between Pakistan and Indian spiked in the aftermath of the Pulwama incident. She had asked for urgent de-escalation of the situation.