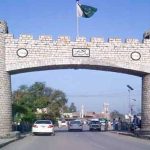 ISLAMABAD: Talks between Pakistan government and Financial Action Task Force (FATF) are underway in Islamabad.
Pakistan reported strengthening of its legal and institutional framework to curb terror financing and money laundering when a visiting delegation of global experts began third 'on-site inspection' of its commitment with Paris-based Financial Action Task Force (FATF).
The delegation questioned the officials on how and which terror financing risks had been identified and assessed and supervision was applied to risks and how law enforcement agencies (LEAs) are identifying and investigating terror financing activities and prosecutions target designated persons and entities or those working on their behalf.
In June 2018, Pakistan made a high-level political commitment to work with the FATF and APG to strengthen its AML/CFT regime and to address its strategic counter-terrorist financing-related deficiencies by implementing 10-point action plan to accomplish these objectives.The successful implementation of 10-point action and its physical verification by APG will lead to FATF de-list Pakistan out of its grey list of countries by September 2019. In August this year, the APG as part of the pre-site mutual evaluation identified a series of deficiencies in Pakistan's anti-money laundering/counter-terror financing laws and mechanisms.
By the end of September next year, Pakistan has to comply with the 10-point action plan it committed with the FATF in June to combat terror financing and money laundering to get out of the grey list or else it will be further downgraded into the black list.
By January next year, Pakistan will identify and assess domestic and international terror financing risks to and from its system to strengthen investigations and improve on inter-agency — FIA, SBP, SECP, banks, home and interior departments and associated agencies — coordination as well as federal and provincial coordination to combat these risks.The government will also complete the profiling (preparing databanks) of terror groups or suspected terrorists, their financial assets and stren­gths, besides their members and their family backgrounds, and make them accessible at the inter-agency level by January. Over the next 12 months, i.e. till September 2019, the government will complete the investigation into a wide range of terror financing activities, including appeals and calls for donations and collection of funds, besides their movements and uses. The outcome will be published at least twice before September next year.