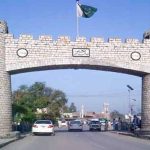 MUZAFFARABAD: Prime Minister Shahid Khaqan Abbasi has emphatically stated that Pakistan stands by Kashmiri brethren in their just struggle for right to self-determination.
He was addressing joint session of AJK Legislative Assembly and AJK Council in Muzaffarabad on Wednesday.
The Prime Minister said the Indian occupation forces have been unleashing wave of terror on innocent Kashmiris for over seven decades, but failed to suppress their voice.
He said that Kashmir is an internationally recognized dispute and its solution lies in a plebiscite according to the UN Security Council resolutions.
The Prime Minister said Pakistan has asked the United Nations to appoint a special envoy on Kashmir to assess the situation there.
He said Pakistan will observe solidarity day with Kashmir on Friday.
The Prime Minister was confident that the Kashmiri people will come out triumphant in their just struggle and India will have to bow down to the international laws one day.
Earlier in the day, Abbasi said that Pakistan will send envoys to six important capitals to highlight Indian brutalities in Occupied Kashmir.
He was talking to representatives of Hurriyet conference.
The Prime Minister assured that the government, the people and all political parties will continue to vigorously provide moral, diplomatic and political support to Kashmir cause.
Shahid Khaqan Abbasi said Pakistan has always supported the implementation of UNSC resolutions that call for granting right to self-determination to the people of Kashmir.
The Prime Minister said that he himself has highlighted the Kashmir issue in all his meetings at the UN and the OIC.
He said he and his cabinet members are in Muzaffarabad today to express solidarity with the Kashmiri people.