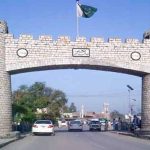 KARACHI: The total liquid foreign exchange reserves of the country stand at dollars 19.81807 billion, State Bank of Pakistan (SBP) said.
According to a handout issued, the foreign reserves held by SBP on October 23, amounted $ 14.91803 billion and the net foreign reserves in the vaults of other banks figured $ 4.900.4 billion.
During the week ending Oct. 23, SBP's liquid foreign reserves decreased by $ 102 million to $ 14.918 billion compared to $ 15.020 billion in the previous week.
During the week, SBP made payments of $ 123 million on account of external debt servicing and other official payments. …APP