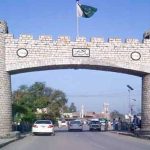 ISLAMABAD: Interior Minister Ahsan Iqbal said on Tuesday that Pakistan has fought the war on terror on its own resources adding that the United States wants to decelerate the repatriation process of Afghan refugees and the world community must comprehend the situation in Pakistan.
Addressing an international conference on counter terrorism in Islamabad, the interior minister maintained that peace had been restored with the elimination of terrorism from every nook and corner of Pakistan.
Iqbal said masses and the Pakistan government were on same page against terrorism whereas Islam is a religion of peace and has no connection with extremism. The interior minister added that extremists used the religion for their nefarious designs.
Ahsan Iqbal went on to say that Pakistan was the fifth emerging economy of the world. "Pakistan is committed to resolving border issues. "Now no jihadi organisation can establish its foot in Pakistan," he said, adding that the Pakistan Army fought the war against terrorism with valour.
The interior minister said that nothing has been done for the progress of war-torn Afghanistan after the withdrawal of allied forces while Pakistan is still bearing the brunt of hundreds of thousands of Afghan refugees.