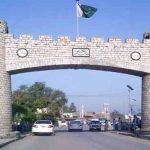 ISLAMABAD: Minister for Kashmir Affairs and Gilgit Baltistan Barjees Tahir says Pakistan has always been desirous of peace but will reciprocate if aggression by India continues.
In an interview today, he said India due to a resilient freedom struggle in Occupied Kashmir and the landmark project of China Pakistan Economic Corridor is resorting to unprovoked aggression on the border.
He said India should now accept the reality that dialogue is the ultimate solution to all disputes with Pakistan and flaring up the border situation will only add to the already strained relations between the two neighbors.