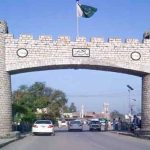 ISLAMABAD: Opposition Leader Shehbaz Sharif vowed on Tuesday that neither was there a Palestine in the South Asian region nor would Pakistan let an Israel form, referring to India as the aggressor state as he talked of the ongoing Kashmir issue.
Shehbaz Sharif, also the president of the Pakistan Muslim League-Nawaz (PML-N), said the country was at a crossroads today and the choices it had was to either stay firm or bow down.
However, "bowing down is out of the question", the PML-N leader stressed.
"We have to stand firm for Kashmir. I believe [India Prime Minister] Narendra Modi has gone to the last extent in its tyranny in Kashmir and to coax some reaction out of Pakistan.
"We have to decide that this is not just about Kashmir but about Pakistan's independence," Shehbaz noted. "The water is already above our heads."
The Opposition leader further mentioned that the Indian PM had targeted Pakistan's jugular vein, which is why, "before he gets a chance to cut it, we need to cut his hands".
"Neither is there a Palestine nor won't let an Israel form in the region," he underlined. "The BJP [Bharatiya Janata Party] has not come into power for the first time in India."
Shehbaz underscored that a country's leadership helps its nation come out of storms and, in that context, the leadership needed "to stand up and stand strong now to tell the world that we're one and we will fight back to the fullest extent.
"I agree with the prime minister that we should send out one message to the world."
It is the voice of 220 million Pakistanis that they stand by the Kashmiri people's side.
Noting that the session was called on an emerging issue that had a direct link to the country's foundation, the PML-N president said: "Pakistan is of Kashmiris and Kashmiris are of Pakistan."
Shehbaz said the Pakistani government had not presented its policy and strategy to counter the assault by Modi even after the passage of 24 hours.
He said: "There is every chance of genocide going on there [in Occupied Kashmir]. What are we planning on doing?"
He added that the Modi government had not only snatched the Kashmiris' rights but also challenged Pakistan's honour and slapped the United Nations Security Council (UNSC) in its face.
Speaking on PM Khan's meeting with US President Donald Trump, Shehbaz said India twice negated the American leader's offer to mediate on the Kashmir issue. "Modi was quietly preparing for what happened in Kashmir," he said.
Shehbaz said it was Modi who was the hurdle in establishing peace in Afghanistan. "Was this President Trump's trump card of trap card?" Shehbaz asked.
"We accepted Trump's offer [to mediate]. Was our government not prepared for Modi's intentions? Our government had no clue and were happy about Trump's offer."
"They couldn't sleep because of the excitement" from Trump's offer, he added.
The PML-N leader also asked as to why Pakistan's ally nations — including China, Saudi Arabia, and the United Arab Emirates (UAE) — had not made any comments on the escalating Kashmir tension and termed it as isolation.
"I think we should tap the UNSC, OIC [Organisation of Islamic Cooperation], and our bilateral relations to give a firm response to Modi.
"If we take a firm stand against Modi and make preparations to counter his move, we will be fully supported."
The Opposition leader concluded his address saying the nation, together, should vow to foil Modi's actions and continue fighting for Kashmiris' independence.