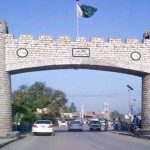 ISLAMABAD: Ambassador of Poland to Pakistan, Piotr A Opalinski on Tuesday called on National Security Adviser, Lt. Gen. (Retd) Nasser Khan Janjua and discussed matters of mutual interest.
The matters pertaining to promotion of bilateral relations, particularly in areas of economy, energy, military cooperation and defense production also came under discussion.
Talking to the Ambassador, Nasser Janjua said Poland was an important country and Pakistan highly valued bilateral relations with it.
Like Pakistan, the strategic importance of Poland was irrefutable in current global scenario, he said and stressed the need to enhance cooperation in multiple areas to further strengthen these ties.
The Ambassador traced a long history of friendship and cooperation between Pakistan and his country and said there was a vast scope for expansion of bilateral relations between Pakistan and Poland.
He mentioned that Polish pilots and Polish airman helped in building Pakistan Air Force in its formative years.
He also highlighted that Polish companies were actively engaged in oil and gas exploration in Pakistan, hence, were working to promote energy sector in the country.
The Ambassador said Poland believed there were vast possibilities of progress for Pakistan in China-Pakistan Economic Corridor (CPEC) framework and also expressed his government's desire to join this endeavour subsequently.
Nasser Janjua thanked the Ambassador for helping Pakistan in initial years.
Referring to CPEC, he said CPEC was a project of massive economic connectivity with an aim to boost progression and prosperity not only of Pakistan but for whole region which will ultimately be helpful in promoting peace and stability.
Both sides agreed to work together at all levels to further promote bilateral relations.