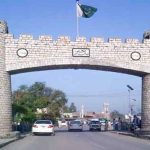 ISLAMABAD: Pakistan's men's junior team will not be part of this year's Junior Hockey World Cup in Uttar Pradesh, as India did not grant visa to Pakistani players due to which International Hockey Federation (IHF) included Malaysia in the event to replace Pakistan.
The Pakistani team was waiting for India's visa for the last 20 days, as the Indian Embassy did not give any response on the visa applications.
Due to India's obduracy, the deadline was missed and the IHF invited Malaysia to replace Pakistan in the event.
"FIH regrets that Pakistan's men's junior team will not be able to take part in this year's Uttar Pradesh Hockey Junior World Cup even though they had officially qualified," the IHF said in a statement said.
"FIH's decision follows considerable discussions with the Pakistan Hockey Federation (PHF) and requests for confirmation that they had the necessary arrangements in place to be able to participate in the event," it said.
"Visas had been applied for after the official deadline and no accommodation was confirmed within the set deadlines. Despite a number of correspondence and reminders, the PHF was not able to show that their team would be able to travel to Lucknow for the event which begins in only a few days' time, the statement added.