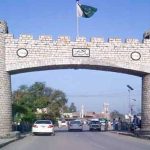 ISLAMABAD: The dialogues between Pakistan and a delegation from International Monetary Fund (IMF) have officially commenced in Islamabad to discuss $8billion bailout package.
Sources said that Pakistan had offered extra Rs600 billion tax target to IMF officials during meeting which was attended by Federal Board of Revenue (FBR) chairman and tax officials.
Pakistan officials have also briefed the IMF officials over tax reforms and limiting tax exemption system was also discussed.
Meanwhile, Pakistan officials are also trying to reach consensus with IMF officials on amnesty scheme while also briefed over assets disclosure scheme adding that assists disclosure scheme will increase income.
Pakistani officials had told the IMF that money laundering laws will not be assisted in scheme while the assists declaration scheme will be discussed further.
On Friday, Prime Minister Imran Khan held separate meetings with International Monetary Fund (IMF) Managing Director Christine Legarde and World Bank Chief Executive Officer (CEO) Kristalina Georgieva on the sidelines of second Belt and Road Forum in Beijing.
In his meeting with Managing Director International Monetary Fund Christine Legarde on the sidelines of second Belt and Road Forum in Beijing, the prime minister discussed matters of mutual interests.
Imran Khan also apprised Lagarde of measures taken to improve country's economy and the government's planned poverty alleviation.
They discussed prospects for a comprehensive policy package and international financial support to help stabilize the economy of Pakistan.
PM Imran Khan held a meeting with Chief Executive Officer of World Bank Kristalina Georgieva and discussed matters related to mutual interests and financial assistance package for Pakistan.
The prime minister appreciated the role played by the World Bank in regional connectivity, poverty alleviation, financial management, provisional projects, Dasu and other infrastructure projects and ease of doing business.
He informed the World Bank CEO of the recent steps taken by the government for improving the economic and fiscal situation in the country.
Khan also apprised the CEO on the socio-economic uplift measures taken up by the government and creation of "Ehsaas" social welfare programme.
On the occasion, the World Bank Chief Executive Officer pledged to further strengthen cooperation with Pakistan in the areas of disbursements programme lending and guarantees provision for raising external funds.