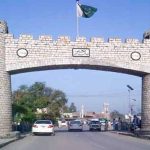 ISLAMABAD: Negotiations between Pakistan and International Monetary Fund (IMF) continue to be in a deadlock with another round of talks due today (Sunday).
According to sources, IMF has demanded an abrupt increase in the interest rate as Pakistan's economic team headed by Financial Advisor Dr Hafeez Sheihk prepares to table its strategy before visiting mission's officials in today's talks.
IMF has demanded hike in gas and electricity tariffs to reduce the deficits, sources said.
IMF has also recommended privatisation of those institutions which are running into losses after every three months, sources added.
On the other hand, sources have reported that Pakistan has assured IMF of carrying out 'stage-wise' implementation upon proposed demands instead of approving the conditions on an urgent basis.
Moreover, Pakistan has tendered its request of softening its conditions, awaiting approval of IMF's Washington Office.
It is to be noted that the bailout package was expected to be announced on May 10 (Friday).