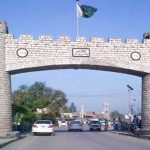 ISLAMABAD: Pakistan and India on Wednesday exchanged lists of prisoners in each other's custody in terms of the Agreement on Consular Access.
Ministry of Foreign Affairs handed over a list of 403 Indian prisoners in Pakistan to the High Commission of India in Islamabad today. They include 48 civilians and 355 fishermen.
A similar list of 278 Pakistani prisoners lodged in Indian jails was also handed over to the High Commission for Pakistan in New Delhi. These include 251 civilians and 27 fishermen.